October 9, 2018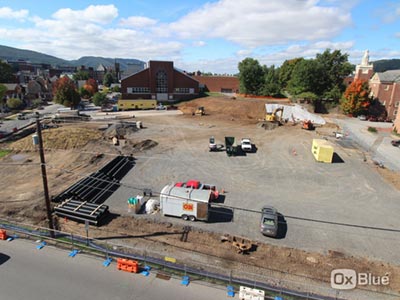 Lycoming College's Gateway Project and Williamsport's east end revitalization efforts recently received an additional boost in funding when Williamsport was named the recipient of a $1.2 million state grant to revitalize Williamsport's Old City area adjacent to Lycoming College.
Part of Gov. Tom Wolf's 42 PennDOT program, the funds will be used to align Franklin and Basin Streets and transform Basin Street into a two-way boulevard. These road improvements will not only serve as a new gateway to Lycoming College but also become a primary entrance to the City of Williamsport.  The road work will also create a more direct path for students to the Riverwalk, and will add bike lanes, transit stops, and lighting to the area.
"This grant is the final piece of funding that was needed to complete road work and infrastructure that will become the new Gateway to Lycoming College, and it brings the total support from the Commonwealth of Pennsylvania to $7.3 million," said Kent C. Trachte, Ph.D., president of Lycoming College. "I want to extend my sincere thanks to both Sen. Gene Yaw '70 and Rep. Jeff Wheeland for advocating on behalf of this project. Without their support and our partnership with the City of Williamsport, we would not be where we are today with this transformational project."
Lycoming College broke ground on its $12.5 million Krapf Gateway Center on July 9, and the building will house College Admissions, Alumni Relations, Outdoor Leadership and Education, and the Center for Enhanced Academic Experiences. To track construction progress on the Krapf Gateway Center and site work, please visit app.oxblue.com/open/Paradigm/lycomingcollege.
Road work completion is planned to coincide with the completion of Krapf Gateway Center in September 2019.