August 14, 2018
Lycoming College is pleased to announce it has received a $24,200 grant from the PPL Foundation. These funds will support the Clean Water Institute (CWI) with its enhancement and expansion of hands-on environmental education programming for school-age students at the Waterdale Environmental Education Center in South Williamsport, Pa.
The CWI provides a gateway to the natural resource heritage of North Central Pennsylvania. Focused on the West Branch of the Susquehanna River and its tributaries (including, but not limited to, Pine, Loyalsock, Lycoming, and Muncy Creeks), CWI works year-round to foster better understanding and health of our waterways.
The Waterdale Environmental Education Center is a joint effort between CWI and the Williamsport Municipal Water Authority. Other partners include the Lycoming Audubon Society, Lycoming College Education Department, Lycoming County Conservation District, Northcentral Pennsylvania Conservancy, Pennsylvania Department of Environmental Protection, Trout Unlimited, United States Geological Survey, and West Branch Regional Authority. This partnership provides opportunities for community education and outreach programs which emphasize the science and importance of good stewardship, as well as the protection of our natural resources and public water supply sources.
The Center currently provides tailored, standards-aligned lessons and experiences for approximately 300 Lycoming County school-age students, typically from grades 3-6, each fall and spring (600 annually). Support from the PPL Foundation will provide for the development of enhanced lesson plans and acquisition of additional equipment and models for hands-on learning.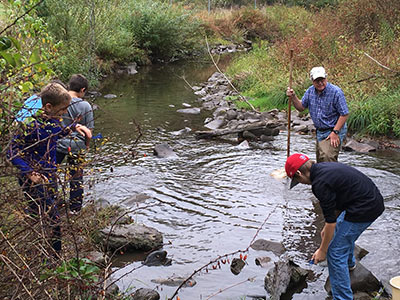 Experiential learning opportunities for students at the Center include capturing and identifying stream invertebrates, sampling and analyzing stream water chemistry, participating in wetland and forest scavenger hunts, conducting nature trail wildlife observation, identifying tree and bird species, and interacting with educational models that illustrate water ecology.
Expanding the Center's educational offerings and equipment availability will allow the program to 1) reach a greater number of students, especially in terms of having the capacity to serve larger school districts such as Williamsport, and a wider region including Sullivan and Clinton counties, 2) provide a wider variety of lesson offerings to meet local elementary and middle school teachers' learning objectives, 3) expand the curriculum, currently geared toward upper elementary and middle school students, to include high school-level lesson plans, and 4) replace aging/borrowed equipment and models, thus ensuring the sustainability of the Center's hands-on educational programming.
Expanding capacity will also allow the Center to offer programming beyond the current fall and spring seasons, and to present two weekend open houses for the public each year.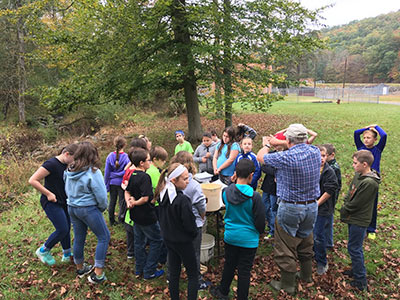 Additionally, expanded educational offerings at the Center will create new opportunities for Lycoming students pursuing education certification in the sciences to interact with and mentor the school-age students who participate in the Center's programs. A recent grant from the National Science Foundation to Lycoming to expand the number of science education students will help support this opportunity.
"This grant will provide a real shot in the arm by allowing us to purchase significant hands-on equipment and supplies to improve current and develop new outreach activities," said Mel Zimmerman, Ph.D., founder and director of the CWI and Lycoming College professor emeritus of biology. Zimmerman has overseen the Waterdale Environmental Education Center since its inception in 2014.
The PPL Foundation awards annual grants through a competitive application and review process.
"After touring the center, I was very impressed. Waterdale gives students a true hands-on opportunity to study nature and practice critical thinking skills by teaching them how to discern what other living creatures are in the environment based on the water. Because of its focus on education and environmental issues with a goal to grow the program by offering it to AP classes and multiple counties, it is a natural fit for funding from the PPL Foundation," said Tracie Witter, PPL regional affairs director.
About the PPL Foundation
Through strategic partnerships, the PPL Foundation will support organizations that are working to create vibrant, sustainable communities and empowering each citizen to fulfill her or his potential. The PPL Foundation contributes more than $2 million annually to a wide variety of nonprofit organizations. For more information, visit www.pplcares.com.