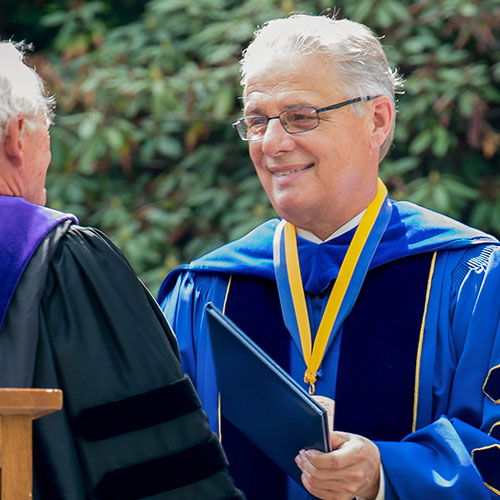 We at Lycoming have much in common. We are Warriors. We do not shy away from a challenge – especially when we work together. As alumni, parents, students, faculty, and staff of this great college, we are also among a lucky few. While many colleges are struggling, ours is on the rise. As one graduate said recently, "the momentum at Lycoming is unlike anything I've seen here in over twenty years. This college is like a rocket ship taking off."
I couldn't agree more. Generations of investment by all who love and believe in Lycoming have brought us to this moment. Within our grasp is the chance to be one of the top liberal arts colleges of the 21st century. I do not say this lightly. The opportunity to realize such an ambitious vision is rare. The Campaign for a Greater Lycoming is essential to getting there. With our track record of stewardship, our current foundation of strength, and our vision for the future, we are confident that Lycoming is one of the best investments you will ever make.
Designed for the greatest possible impact on the College's viability and visibility in the coming decades, each of the campaign's priorities positions the College to build on its liberal arts legacy to recruit talented students and prepare them with a success-defining education.
Now is the time to use our collective strength to create the coveted degree of the future, fuel a new generation of Warriors and transform our campus. There are very few times in an institution's history when the right elements come together to effect transformational change. I truly believe that this is the moment to seize our opportunity.
Now is the time to stop being modest. Let's start proclaiming the kind of extraordinary success this institution already celebrates. Let's achieve an audacious future knowing we have the strength to back up our ambitions. Let's not only dream how far we can go, let's get there together.
Now is the time to stop being modest. Let's start proclaiming the kind of extraordinary success this institution has already celebrated. Let's not only dream how far we can go, let's get there together."