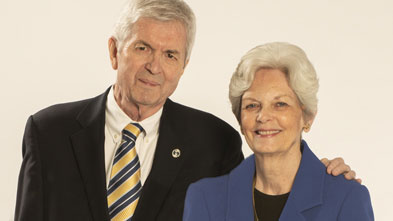 July 27, 2018
Lycoming College is pleased to announce that Art '59 '11H and Joanne Haberberger have established the Haberberger Endowed Program Match to encourage and leverage support for endowed funds in student research grants, the Clean Water Institute, and a creative writing program.
The goal is to raise $300,000 in new gifts from alumni and friends of the College to support these three initiatives, and the Haberbergers will provide a 25 percent match of the dollars raised, up to a maximum of $75,000, now through December 31, 2018.
Support of the Student Research Grants Endowment will create opportunities for students to conduct independent research. Funds may be used to support the existing student research grants that enable undergraduates for research approved by the faculty and the provost. The Clean Water Institute (CWI) Endowment will provide support for the storm water management program of the CWI. Funds may be used to support student research or purchase equipment related to the storm water management initiative, as well as for general programing. The creation of a Creative Writing Program Endowment will allow the College to provide grants to students for purposes approved by the provost and the creative writing faculty.
As a separate gift intention, the Haberbergers will provide $25,000 in support of their existing Haberberger Fellowship Endowment. The match dollars Lycoming receives will be based on 25 percent of the total dollars raised in support of the above named funds, not to exceed $75,000, for a total potential commitment of $100,000 from the Haberbergers. The Haberberger Fellowships provide support and recognition to high academic achieving rising seniors who display exceptional research and scholarship.
The Haberbergers have been generous supporters of the mission of the College. They have personally supported the creation of more than 60 new student scholarships, among them being the Arthur and Joanne Haberberger Math and Science Endowed Scholarship and the Clean Water Institute's Laboratory Endowment Fund.
For information about how you can support Lycoming College by participating in the Haberberger Endowed Program Match, please contact Robb Dietrich, senior director of major and planned gifts, at 570-321-4401 or dietrich@lycoming.edu.