July 12, 2018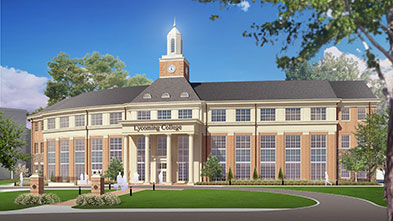 Lycoming College broke ground during a ceremony on July 9, 2018, to commemorate the launch of its new $12.5 million Gateway building and the transformation and revitalization of the East End of Williamsport. Funding through public and private grants totaling $1.6 million will support the reconstruction of Basin and Franklin Streets by the City of Williamsport, and an additional $8.5 million in public infrastructure projects will provide the foundation to attract millions in private investment to the area.
Partnerships with a number of community and local offices played a critical role in bringing this project to fruition, including the City of Williamsport, the Commonwealth of Pennsylvania, the state Department of Transportation, East Third Street Commission, First Community Foundation Partnership, Lycoming County, Lycoming Economic Development Foundation, PennDOT, River Valley Transit, and a number of private community business leaders and local residents. In addition, local elected officials, specifically, Sen. Gene Yaw '70 (R-23), were instrumental in securing a $2 million Redevelopment Assistance Capital Program (RACP) grant to the College; further, Yaw and Rep. Jeff Wheeland (R-83) successfully advocated for almost $3 million in state grant support for the larger revitalization project. Lycoming is also grateful to BHDP Architecture, Derck & Edson, Larson Design Group, Wohlsen Construction, and Stantec for their work, and to Delta Development for administrative support and lobbying efforts that helped to secure the RACP and other grants.
In recognition of the inspiring philanthropy of Dale Krapf '67, a trustee of Lycoming College, and his brother, Dallas Krapf '13H, Lycoming College president Kent Trachte, Ph.D., announced that the new Gateway building will be named the Krapf Gateway Center. The catalyst of the College's Campaign for a Greater Lycoming, the Krapf Gateway Center will advance the infrastructure and private development that will take place over the course of the next 12-18 months and beyond.
Lycoming has committed to this project and vision in order to transform its campus, creating a premier arrival sequence to the College at the exit of I-180 at Basin Street, and strengthen the connection between the College and the City of Williamsport. The 28,000-square-foot Krapf Gateway Center will provide a place to welcome prospective students, alumni, and the community to campus, as well as new programs that focus on outdoor leadership and education, internships, study abroad, and student-faculty research.
The College has received generous support from alumni and friends totaling more than $6.5 million in private donations and grants to the Krapf Gateway Center. Entering the final year of its comprehensive campaign, Lycoming is within reach of its $65 million campaign goal.
"Institutionally, Lycoming College and the City of Williamsport will mutually benefit from the success of one another," said Chip Edmonds '98, executive vice president of Lycoming College. "We believe strongly that this project will both make Lycoming a stronger 21st-century liberal arts and sciences institution, and also improve the character and quality of the East End of the City."
"Today's groundbreaking ceremony marks a significant moment in the history of Lycoming College and the City of Williamsport. It is an important step in our quest to build a greater Lycoming," said Trachte. "It is a new beginning for the Old City neighborhood that is the College's home. It is a point in time when we are reminded that partnerships can produce transformative change. It is an occasion to recognize and celebrate the importance of philanthropy."
Notable guests invited to speak at the ceremony included Dale and Dallas Krapf; Stanley Sloter '80, chair of the board of trustees at Lycoming; Gabriel Campana, Ed.D., mayor of Williamsport; Senator Yaw; and Dennis Davin, secretary for the Pennsylvania Department of Community and Economic Development. Other notable attendees included members of the Lycoming College board of trustees and representatives from the aforementioned organizations that have graciously partnered with the College.
"At the heart of a residential undergraduate education is a commitment to creating a sense of place — a place where students learn, grow, and are prepared for careers of significance and lives of meaning. A place that inspires students to both think deeply and act boldly. We strongly believe that this new building will be at the center of our institutional commitment to these goals," expressed Sloter. "On behalf of Lycoming College's board of trustees, we proudly support the construction of this building and the many ways in which it will provide generations of students, alumni, and community members the opportunity to be welcomed to one of the best liberal arts colleges, perhaps in the nation."
"It will provide a grand entrance to a top-quality educational institution and a grand entrance into the City of Williamsport," said Yaw about the Krapf Gateway Center. "Today's a great day for Lycoming College, the City of Williamsport, and for Pennsylvania."
"In the spirit of being a model civic leader for the young adults it educates, Lycoming College looked to its surrounding neighborhood and realized it could be a major catalyst for positive change in the community," said Davin. With regards to the financial support of this project, Davin added, "The funding was a result of true collaboration and partnership between public, private, and educational sectors of Williamsport and is a great example of what happens when everyone speaks with one voice in support of the growth of an important community like Williamsport."
Campana remarked about President Trachte, "This is a new beginning for the East Third Street Gateway, and I would be remised if I did not thank a true leader in this community, a gentleman that I met several years ago, and I was very, very impressed with the first meeting with his vision, with his excitement, his enthusiasm, and his willing to make history in regards to opening up the gates of Lycoming College to this city."
The ceremony concluded with Trachte expressing gratitude to Dale and Dallas Krapf for their generosity and inviting them to share a few words. "I really think that my days at Lycoming shaped me into the person and the successful career that my brother and I have had in the bus business, and I will be forever grateful for that," shared Dale Krapf. "There's no place that we'd rather be than here today to see the groundbreaking for this building. It's a great day for the community, it's a great day for Lycoming College, and it's a great day for the Krapf family."
Construction of the project will begin this summer.