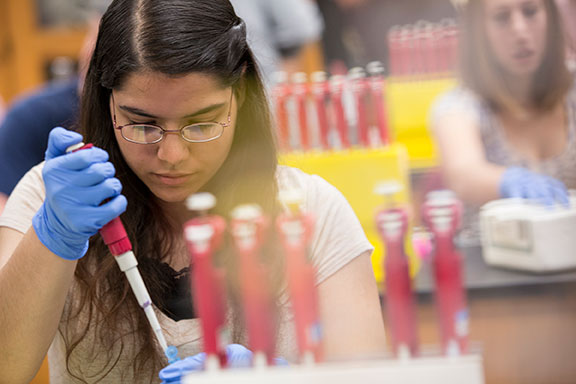 As Lycoming College's STEM (science, technology, engineering, and math) curriculum evolves to encompass biochemical studies and increasingly advanced technology, students and faculty will benefit from a generous grant awarded by the George I. Alden Trust in the amount of $125,000. This is the fourth and largest grant awarded to the College by the Alden Trust.
The interface between biology and chemistry is currently one of the most dynamic areas in scientific education and research, and the College is pleased to introduce a new biochemistry major this fall. In order to better equip its students and support research in the biochemistry field, this grant will contribute toward the necessary renovations to the chemistry floor of the Heim Science Center, in particular to the creation of a biochemistry teaching laboratory. The renovations will commence in the spring semester, with anticipated completion in summer 2019.
To pursue an interdisciplinary major in biochemistry, students will be required to take two biochemistry courses, with additional coursework in biology, chemistry, math, and physics. The completion of a biochemistry major will provide graduates with the utmost preparation for a variety of medical and pharmaceutical careers, as well as lifelong learning.
"The biochemistry program is an example of Lycoming's commitment to the type of curricular innovation that lends itself to a 21st-century liberal arts and sciences education," said Kent Trachte, Ph.D., president of Lycoming College.
The George I. Alden Trust focuses on capital projects that contribute significantly to the intellectual growth of students in higher education. Funds are predominately allocated to independent undergraduate institutions that demonstrate a combination of educational excellence, exciting programming, and efficient and effective administration, with an undergraduate population of at least 1,000 and at most 5,000 students. For more information, please visit the George I. Alden Trust website.