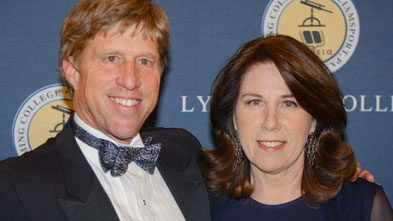 "We focus on education because education has had the biggest impact on us." For many years, Stan Sloter '80 and his wife, Joey (Hall) '80, have targeted their charitable giving specifically to education needs. Today, for this couple, that deliberate focus underscores the import and urgency of the Campaign for a Greater Lycoming. "We think it's where we can make the broadest impact, not just on individual lives but on society as well," continues Stan.
As the Sloters reflect upon their own career paths, and indeed their paths in life, they remain greatly influenced by their own experiences at Lycoming. Both feel strongly that a residence-based approach to higher education can be one of the biggest turning points for a young person. At Lycoming, Stan and Joey explored different disciplines that ultimately led to success in their respective fields — Stan as an entrepreneur, founding Paradigm Companies, and Joey as an education strategist who was instrumental in launching Rocketship Charter School in Washington, D.C., and who serves on the boards of both Teach for America's Washington D.C. region and Rocketship Education.
Now chair of the board of trustees, Stan is intimately familiar with the Campaign for a Greater Lycoming — a $65 million initiative that will help cement Lycoming's spot as a tier-one liberal arts college. Informed in part by Joey's work ensuring children from lower-income families receive a quality education, Stan considers the campaign's goal of keeping Lycoming's first-class education affordable for new generations paramount: "Students' lives change forever as a result of the right college experience," he says. "We need to make sure this experience is kept affordable and not just for the elite, because it's a critical component of our education system."
Joey also sees her own reflection in the young people who live in small towns throughout Pennsylvania and beyond. She applauds Lycoming's embrace of a modern approach to a traditional liberal arts education, one with a practical edge that appeals to these same students, and to their parents. "To draw today's students you have to be good at what you do and use your resources wisely," she says. "Lycoming has been very thoughtful in this approach, particularly with science-based programs that focus on clean water and energy. These are high-level opportunities that also have a practicality to them, offering students clear career paths in a context they already know."
A desire to help the College position students for success upon graduation has further inspired the Sloters to make their commitment during the early stages of the campaign, with the establishment of The Stanley '80 and Joey Hall '80 Sloter Endowed Chair in Entrepreneurship. The Sloter Chair will help Lycoming develop a distinctive academic program in entrepreneurship.
It's a career choice with which Stan is familiar. "Lycoming has a superior business program and has already produced a large number of truly remarkable entrepreneurs," he says. "Many students today are hungry not only to understand entrepreneurship as a career option, but also to develop the skills needed to start a business or take one on. This program will accelerate that."
As each reflects with appreciation on their own Lycoming experience, both Sloters are reminded that their gratitude also engenders a pay-it-forward sense of responsibility. "The opportunities we were given were made possible by previous generations," says Stan. "It's just the right thing for us to help make possible these same opportunities for future generations."