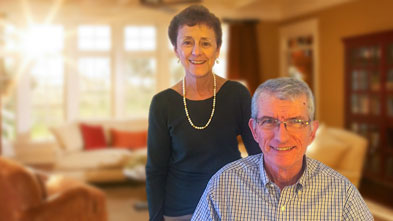 For Ruth (Rendle) '67 and Bill Wood, establishing a Charitable Gift Annuity (CGA) is just their way of giving back to the College that has served them so well. "Paying it forward is part of our philosophy," said Ruth.
With each of the 14 CGAs the Woods established with Lycoming, they provided a gift to the College, benefitted from a partial tax deduction and arranged for a lifetime stream of annual income for themselves or their grandchildren.
It was in 1992 when Ruth and Bill started thinking about CGAs after Dale Bower '59, former director of planned giving, made the first of many annual trips to visit the Woods. "We did our first one that year and continued establishing CGAs for 11 consecutive years," said Ruth. "After we did ours, we established one for each of the grandkids to help with their college expenses. Alyssa, our oldest granddaughter, received her first payment this year as she prepares to begin working toward her bachelor's degree."
"For many years, the rates were really good. When the rates were not as favorable, we decided to make outright gifts to establish the Wood Family Endowed Scholarship," she explained. "We did it mostly because of support we had from Lycoming over the years. We felt CGAs would help Lycoming, as well as provide for us in our retirement. It was a win-win."
Fifty years after graduating, Ruth has maintained a close relationship with her alma mater. She was always close with her Lycoming friends, seeing the group several times every year. When it was time for her children — Laura Meisl '94 and William Wood '97 — to attend college, both settled on Lycoming, strengthening another tie-back to her alma mater.
The Woods feel their experiences with Lycoming have been very positive, and they encourage others to consider giving back with CGAs. "The money would be well spent. We have been impressed with the way Lycoming invests the money, and we are pleased to be associated with the high-quality education that the College provides," said Bill, adding that they are confident in the mission of the College and the direction President Trachte is taking the institution with initiatives such as the new course of study in entrepreneurship.