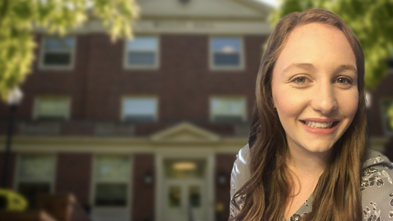 When Reilly Groder '17 first started her college search, she was looking for programs in history and psychology, and Lycoming kept popping up. Groder applied for admission, but kept it a secret from her father, Charles Groder '89. "I still wasn't sure I wanted Lycoming, and I didn't want to get his hopes up that I was considering attending his alma mater," she said.
All that changed after a visit to campus, when Groder instantly knew she had just arrived at her new home. A $20,500 Presidential Scholarship, plus additional financial support following her Scholars Day interview at Lycoming, helped to seal the deal. "To say that my father was excited was an understatement. Tears of joy were shed that day!"
An introductory criminal justice class with Kerry Richmond, Ph.D., and then a correctional policy class, made an enormous impact on Groder, who changed her major to reflect a new interest in criminal justice.
"During my sophomore year, Dr. Richmond asked me to work on a research project at the State Correctional Institution at Muncy (SCI Muncy), the goal of which was to learn the history of the facility, what prompted its shift from reformatory to correctional institution in the mid-1950s, and to analyze crime trends among offenders from 1920 to 1954," explained Groder, who sifted through handwritten index cards dating back to 1920 for clues on how and why this change occurred. "Dr. Richmond helped me most by providing writing and research experience. After recording the data and analyzing trends over time, this side project turned into my scholars project senior year, and later helped me to secure an assistantship in graduate school."
But Groder's Lycoming experience wasn't all hard work. The camaraderie of campus life helped her to feel more at home. "I was initially hesitant to leave home, and arriving on campus was nerve wracking, but I quickly fell into a rhythm and formed strong friendships. It was great. It helped keep me centered."
As commencement approached, Groder flip-flopped on whether to enter the workforce or continue her education with a post-graduate degree, eventually settling into a master's program in criminal justice at Boston University. Still finding her footing as a grad student, she knows she chose the best course for her right now. The field is densely populated, but the research experience she gained by working with Richmond at Lycoming has already set her apart from others in her program, and she credits Lycoming's small atmosphere that made it possible for her to work with a Ph.D. to prepare her with the necessary research and academic writing experience.
While she doesn't quite know the end goal in her story yet — possibly a career in counterterrorism — she believes Lycoming set her on a journey of self-discovery and fulfillment. "I am incredibly thankful for the opportunities given to me by Lycoming, and I look forward to giving back to Lycoming in any way I can."