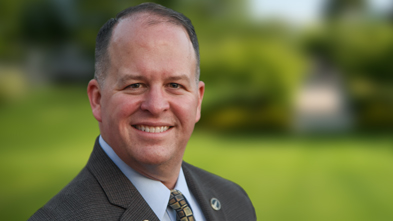 During his first semester at Lycoming, Mark Ohlinger '92 met the English professor that would set his entire college career on a course for success. In Honors Composition with Emily Jensen, Ph.D., Ohlinger felt he was truly challenged to be a better writer, and was able to grow as a student.
After earning a bachelor's in international studies and economics, Ohlinger left Williamsport to pursue a career in finance, but his connections to Lycoming persist. "I enjoyed my time at Lycoming and made friendships that remain strong today. I also loved my time in Williamsport and Lycoming County. It always feels like home when I come back," he said.
His giving helps Lycoming achieve its goal of Creating the Coveted Degree of the Future. With a particular interest in study abroad opportunities, Ohlinger established a named annual study abroad stipend that helped two Lycoming students study abroad during the summer of 2017. Mark utilized the matching gift available from his employer to make an even greater impact, and participated in the Enstine Match opportunity to create another internship. Not only does he support Lycoming financially, he gives of his time by serving on the President's Leadership Council, and has helped to place students in positions with his own employer, Vanguard.
Ohlinger's philanthropic giving to Lycoming is guided by the values instilled in him by his parents: Share what you have. "They would never consider it 'philanthropy,' rather just doing your part as a good citizen." He wants others to have access to the same tremendous opportunities made available to him, including the generous scholarship package that put his Lycoming experience within reach. Beyond that, Ohlinger wants students to have opportunities he did not have, such as study abroad. Ohlinger laments, "Oh, how I wish I'd spent a semester in Spain!"
Today, Ohlinger praises Lycoming for its innovative Center for Enhanced Academic Experiences. "What a great concept! For a school the size of Lycoming to be able to offer students a variety of study abroad and internship opportunities is amazing," said Ohlinger, who also lauds the College's strong connection with the city of Williamsport. "Having a vibrant downtown is vital not just to the people of Lycoming County, but to Lycoming College, as well. The investment the College has made in our campus is impressive, too, and there are exciting developments on the horizon!"
Ohlinger encourages alumni to come back to visit Lycoming for Homecoming or Alumni & Reunion Weekend. "You will be amazed at the changes to the College and to downtown Williamsport, but it will still feel like home. Perhaps that visit will also inspire you to give back. No gift is too large or too small!
"All gifts are meaningful and if we each did a little, it would mean a lot."