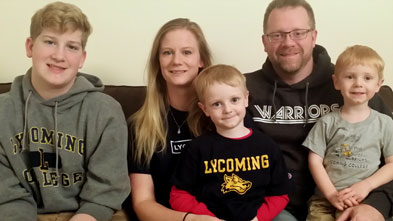 When Brian Belz '96 chose to enroll at Lycoming, it was because of its small size and close proximity to home. But it turned into so much more than that. The nurturing, tightly-knit community that came with that enrollment helped him realize a loyalty and dedication to Lycoming College that has lasted more than 20 years with no signs of diminishing.
"Lycoming was the only college I wanted to attend and the only one I applied to," said Belz. At the time, Lycoming's Heim science building was new, and with a desire to major in chemistry, this appealed to him.
Belz found that Lycoming's small size afforded him the opportunity to develop deep bonds with professors and students alike. "On such a small campus, you become close with everybody and know everyone," said Belz who explained that he came to think of the chemistry and physics faculty, and other students, as his extended family, often sharing meals with them, and even playing basketball and tennis together.
As a scholarship recipient, Belz vowed to pay it forward so that others could benefit from the same help he had. When he was nominated for the IRUSKA Honor Society '95, he felt honored to be recognized as a positive role model for future students and saw it as yet another reason to contribute back to the Lycoming community.
"Fortunately, I obtained a well-paying job right out of school and immediately started giving back, including of my time." Belz immediately began supporting Lycoming's annual fund and established the Brian L. Belz '96 Merck Scholarship. He later established the $50,000 Brian Belz '96 Endowed Scholarship. He is a member of the Tower Society and has named a faculty office in honor of Dr. David Fisher in the Lynn Science Center.
Additionally, Belz has guest lectured and participated in colloquiums on campus, as well as in the Barbara Haller Endowed Lectureship in Biology and Chemistry during homecoming weekend. He is a former member of the Alumni Association Executive Board where he served for 10 years, and even worked with a previous employer to donate analytical equipment to the Chemistry and Biology departments.
Now Director of US OTC Regulatory Compliance at Johnson & Johnson, Belz's ties to Lycoming are stronger than ever. "As a member of the President's Leadership Council, I'm a big supporter of Lycoming's plans to evolve the campus and to grow Lycoming's relationship with the city of Williamsport. For Lycoming to revolutionize and redefine its educational offerings, all while maintaining a high-quality education without abandoning the liberal arts — that's what excites me and continues to draw my support."
Belz encourages others to re-establish lost ties with their alma mater by simply visiting. "Come back to Lycoming. So much has changed in the last few years, yet so much hasn't changed. It's a very comforting feeling stepping back on campus, seeing the new Keiper Recreation Center, the renovated dorms, the addition of Lynn Science Center, the athletic complex with the new scoreboard, turf and tailgate area — all of it is amazing, and additional growth is just around the corner with the proposed Gateway Building. The College is evolving with the times, but not changing its core mission."