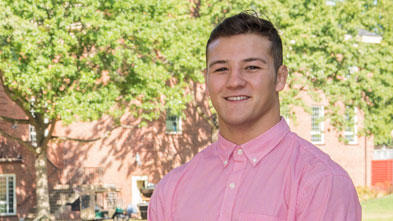 Brandon Conrad is the epitome of the scholar athlete. A wrestler of prodigious talent, Conrad notched 36 wins in his bouts last season, and in just his sophomore year he came heartbreakingly close to reaching the national finals. In the classroom, the chemistry major earned a 3.95 GPA last year in one of the most exacting of disciplines.
Now a junior, Conrad is this year's recipient of the James A. Heether '09 Endowed Scholarship and the James G. and Fern S. Law Endowed Scholarship. The awards are crucial support for Conrad as he pursues his academic and athletic goals. "I am deeply thankful for these awards and the support they show for my work as I continue my education at Lycoming," Conrad said.
Conrad's accomplishments are not going unnoticed. In recognition for his academic and athletic achievements, he was named to the National Wrestling Coaches' Association Division III Scholar All-American list. While placing at every tournament and earning a spot as a varsity captain on the wrestling team, Conrad racked up an abundance of similar honors, including being named to the MAC Academic Honor Roll, the ECWC All-Academic Team, the CoSIDA Academic All-District First Team, and the CoSIDA Academic All-American Second Team. Conrad was also selected by his Lycoming teammates for the Budd Whitehill Award for his leadership qualities and his devotion to helping everyone on the team.
The team spirit that Conrad embraces extends beyond sports. "I've learned a little help can make a big difference, and I've seen that from both sides — starting with the help I've received from peers, professors, coaches and donors who have made my Lycoming experience so fulfilling," said Conrad. As a way of giving back, Conrad tutors fellow students in chemistry and writing, and works hard to ensure that they succeed in their own aspirations. "The unity you feel on campus is part of why I am proud to be at Lycoming, and why I am incredibly grateful for the support I have received."