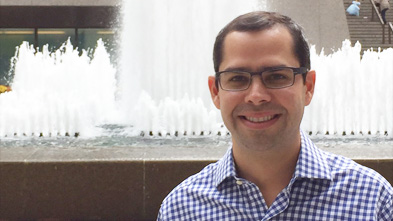 Hailing originally from Venezuela, Bernardo Urdaneta '04 did not have the typical American teen college-search experience. As an exchange student, Urdaneta's host family in Williamsport — Mr. Craig and Marty Harris — suggested he look into colleges in Pennsylvania. "When I visited Lycoming I immediately knew it was the place," he said. "Dean Spencer made me very comfortable on campus, and without the scholarship he offered me, I would not have been able to consider going to school in the States."
While the scholarship made a difference for Urdaneta, it was the small school setting and low faculty-to-student ratio that put it over the top for him. "As a freshman, I couldn't believe that professors would give me so much of their time to discuss academics and current events. When my father visited me on campus, he was completely startled when President Douthat sat down with us for lunch. It really felt like a family here."
"I was given the opportunity to grow as an individual and I am happy to help give others that same opportunity," he said.
As a student, Urdaneta's interests lay in several areas: He played tennis, served as an admissions tour guide and worked in computer labs and as a projectionist. "Lycoming is great for a student who has multiple interests. There are opportunities to get involved in a lot of different things," he said.
But when it came to academics, Urdaneta quickly zeroed in on one area that would turn out to be a passion for him. "I took economics my first semester at Lycoming and absolutely loved it. Professor Sprunger is the reason I majored in economics. I did research for him as an undergraduate, and with his guidance studied economics in graduate school immediately following my time at Lycoming."
One event during Urdaneta's junior year inspired a sense of philanthropy in him: The Institute for Management Studies invited a biographer on Andrew Carnegie, and through listening to him speak, Urdaneta learned that Carnegie left a sizable portion of his wealth to libraries across the country. "Hearing this had a profound impact on me. Carnegie is a wonderful model for giving back and has influenced me to give back to Lycoming College, and to give back locally in Chicago, where I now live. I've been very lucky, so I want to make a difference by helping others. I'm appreciative of the people and places that took a chance on me. I know my life would be different had they not given me the opportunity."
Today a successful senior analyst with Exelon Corporation, Urdaneta still gets excited talking about Lycoming and the enthusiasm he sees whenever he speaks to someone on campus. He says today's leadership further inspires generosity in him and a spirit of positivity about the future.