May 9, 2017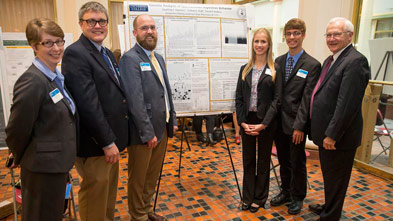 WILLIAMSPORT, Pa. – Lycoming students travelled to the Pennsylvania State Capitol building on April 25, to present their research to state legislators, as well as vie for top honors at "Undergraduate Research at the Capitol — Pennsylvania." Courtney Hannum '18 and Zachary High '18, tied for second place in the STEM category with their poster "Genetic Analysis of Spontaneous Repetitive Behavior."
"Undergraduate Research at the Capitol — Pennsylvania" is a poster conference that showcases outstanding and award-winning research projects by undergraduate students from across the state, and brings state legislators together with college students and faculty to share scholarship experiences. The event helps to demonstrate the importance of undergraduate research in the educational development of college students, and shows that undergraduates are capable of producing valuable results that enrich the knowledge, cultural heritage and economic well-being of our communities, state and nation.
Lycoming was in good company as 69 carefully-selected research projects were presented from 39 institutions. Each poster was evaluated on the students' ability to clearly articulate the importance of their research and the potential impact of the research to public policy. Hannum and High gained recognition for their poster under the direction of David Andrew, Ph.D., assistant professor of biology.
Hannum, a cell and molecular biology major with minors in psychology and neuroscience, is a 2017-18 Haberberger Fellow, a distinction that will provide support for her to complete a scholarly paper during her senior year at Lycoming. She was previously a Haberberger Research Scholar. Hannum has also been chosen to participate in this year's Summer Undergraduate Research Internship Program at Hershey Medical Center.
High has secured a summer internship with 1986 Lycoming alumnus Kent Chapman, Ph.D., in his laboratory at the University of North Texas. Majoring in Spanish, as well as in anatomy and physiology, High was recently awarded a scholarship from Phi Kappa Phi for study abroad this coming fall in Madrid.
Creating and funding these kinds of enhanced academic experiences are at the heart of the College's Campaign for a Greater Lycoming. Since launching the campaign, more than $16 million in gifts, such as the Haberberger scholars and fellowship programs, have supported opportunities for students to conduct undergraduate research. Both High and Hannum worked with Dr. Andrew through a summer research grant.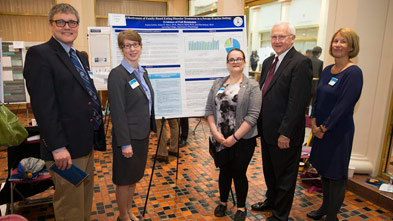 "With the help of Lycoming's Center for Enhanced Academic Experiences and its faculty mentors, Courtney and Zachary are able to embrace experiential learning opportunities, such as student-faculty research, internships and study abroad," said Susan Ross, Ph.D., associate provost of experiential learning and professor of sociology. "Scholarships are instrumental in providing the resources necessary to successfully complete these types of opportunities that give students the experience and confidence to pursue academic and professional interests post-graduation."
Also presenting at the conference was psychology major Krysta Corliss '17 under the direction of Susan Beery, Ph.D., associate professor of psychology at Lycoming, with the poster "Effectiveness of Family Based Eating Disorder Treatment in a Private Practice Setting: Evidence of Full Recovery." The research conducted by Corliss and Beery was supported by a grant from the Andrew W. Mellon Foundation to expand research and enhanced academic experiences at Lycoming College. Corliss completed a year-long psychology practicum at Crossroads Counseling, and is a founding member of the Equality Affinity Community House.