April 5, 2017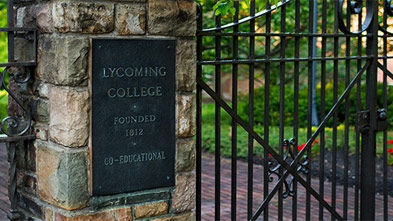 Lycoming is delighted to announce the successful completion of the Student Retention Fund Match Program, with more than $180,000 in matching funds secured to ensure a Lycoming education remains accessible to new generations of smart, ambitious young people, regardless of their circumstances and their capacity to pay.
With financial aid a priority of the Campaign for a Greater Lycoming, the Student Retention Fund was initiated in September 2016 to help the College meet a financial aid budget that has grown by more than $8 million during the past five years — a 29 percent increase. In response, Trustee Emeritus Art Haberberger '59 and his wife Joanne, and Trustee Peter Lynn '69 and his wife Joyce, decided to create the matching program to assist the Student Retention Fund in finding a solid footing.
The Haberbergers and the Lynns generously contributed an additional 25 percent for every gift of $1,000 or greater from September 2016 through February 2017. A sincere "thank you" is offered to everyone who participated in this program that Fuels a New Generation of Warriors. Your gift provides a safeguard for academically promising and hard-working students who face financial challenges as they complete their degrees and launch successful careers.
With the conclusion of the matching program, the Student Retention Fund will continue to deliver critical resources to students who perform well academically, but are at risk of not completing their degree due to excessive student indebtedness or unforeseen financial hardships.