May 1, 2017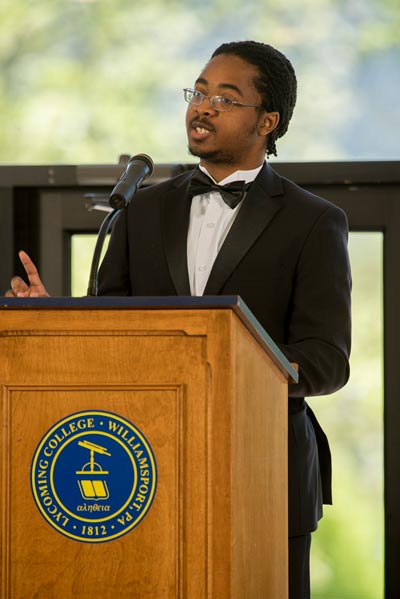 Lycoming students and their families came together on Sunday, April 23, to honor the generosity of Lycoming College donors — those devoted alumni and friends of the College who give back with endowed scholarship funds, as well as through the Lycoming Fund. The annual gathering brought together scholarship recipients with the donors who helped to make their Lycoming experiences possible.
Attendees received a warm welcome from President Kent Trachte, who noted that their investments in scholarships have had a profound impact on giving talented students access to undergraduate degrees. "Collectively, we have raised nearly $15 million of our $20 campaign goal for endowed scholarships. Only 10 percent of scholarships awarded each year are funded through endowed scholarships; the remaining are simply discounts in tuition. These investments in scholarships have an immediate and critical impact on providing talented students access to a premier education" he said, thanking donors for their dedication to Lycoming.
Following lunch, Lycoming Trustee Marshall D. Welch III spoke about how he has served the College in several capacities, and has come to learn that scholarship donations are the most important kind of support a donor can provide, yet are often the most difficult to obtain. He thanked those present for "helping students reach their lofty goals for the future."
Student speaker Jacqueline Croteau '17 expressed her gratitude to donors in making college affordable for her and her family. She described how this led her to take advantage of every opportunity offered her, and how upon return from one of her many study abroad and global experiences, she "came back inspired to be a leader" and hopes to pay it forward. Croteau reminded donors that their assistance inspires students in many ways: "It is relief. It is freedom to move and discover our identities. It is a sense of purpose and a reminder to do to others what we would have them do to us. It is the courage to trust others and appreciate the opportunities presented to us, even if we do not think we deserve them. It is the inspiration to become critical and able-bodied adults."
Also representing student scholarship recipients, DC Keys '17 voiced his gratefulness, explaining that due to donor contributions, he was able to spend his college years focusing on his academics, instead of stressing about finances. DC explained that serving as a resident assistant, in addition to his many other campus activities, taught him that community matters, "I have seen students from all kinds of walks and backgrounds come together to live and learn together." He is confident that Lycoming will help him succeed and he hopes to give back in the same way Lycoming has given to him.
Chip Edmonds '98, vice president for college advancement, closed the afternoon by thanking everyone for celebrating the accomplishments of scholarship students, and to remind them that they "are standing on the shoulders of many."