October 30, 2019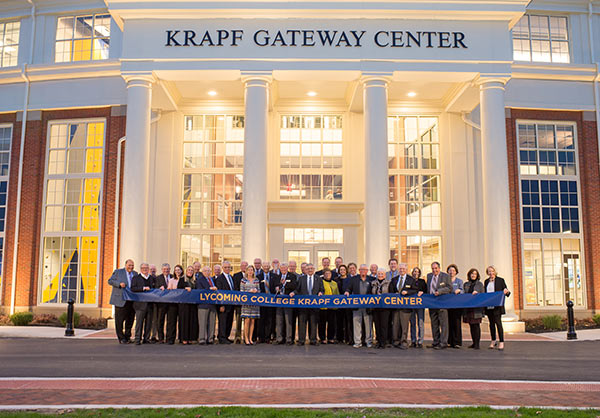 The Krapf Gateway Center, the catalyst of The Campaign for a Greater Lycoming, Lycoming College's most ambitious fundraising initiative in its history, was dedicated on October 25, 2019. Named in recognition of the inspiring philanthropy of Dale Krapf '67, a trustee of Lycoming College, and his brother, Dallas Krapf '13H, the Krapf Gateway Center serves as the new home to the Office of Admissions, Office of Alumni and Advancement, the Center for Enhanced Academic Experiences, and the Outdoor Leadership and Education program. The 28,000-square-foot building also includes study and seminar rooms, a large presentation space, a café, and a three-story rock-climbing wall.
"Today's dedication marks a significant moment in the history of Lycoming College," said Kent Trachte, Ph.D., president of Lycoming College. "For the first time since Old Main was torn down, the College has a grand entrance that is befitting an institution with such a distinguished history and exciting future. Moreover, the location and physical orientation of the Krapf Gateway Center visually reconnects the College to the grand Susquehanna River, the Pennsylvania Wilds, and the Old City of Williamsport."
"It's a great, great thing when something that you've planned and worked on for so long exceeds your expectations. And I think this has done that and more," said Dale Krapf about the completion of the new building.
Lycoming College broke ground in July 2018 on this new $12.5 million building and the transformation and revitalization of the East End of Williamsport. Funding through public and private grants totaling $1.6 million funded the reconstruction of Basin and Franklin Streets by the City of Williamsport, and an additional $8.5 million in public infrastructure projects will provide the foundation to attract millions in private investment to the area.
Partnerships with a number of community and local offices played a critical role in bringing this project to fruition, including the City of Williamsport, the Commonwealth of Pennsylvania, East Third Street Commission, First Community Foundation Partnership, Lycoming County, Lycoming Economic Development Foundation, PennDOT, River Valley Transit, and a number of private community business leaders and local residents.
In addition, local elected officials, specifically, Sen. Gene Yaw '70 (R-23), were instrumental in securing a $2 million Redevelopment Assistance Capital Program (RACP) grant to the College; further, Yaw and Rep. Jeff Wheeland (R-83) successfully advocated for almost $3 million in state grant support for the larger revitalization project. Lycoming is also grateful to BHDP Architecture, Derck & Edson, Larson Design Group, Wohlsen Construction, and Stantec for their work, and to Delta Development for administrative support and lobbying efforts that helped to secure the RACP and other grants.
"The new offices, the study rooms, and the rock-climbing wall are all great, but this building means more than that. It symbolizes Lycoming's commitment to providing a top-notch education to empower learners of today to become leaders of tomorrow," commented Mikayla Feldbauer '20, Student Senate Secretary, during the dedication. "That is what makes this building so special to not only myself, but to the entire student body and the campus community."