February 10, 2017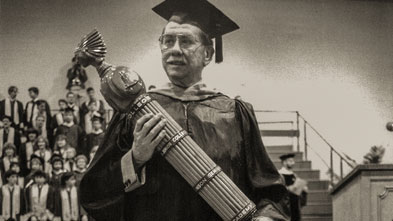 Lycoming College students will benefit for years to come from the establishment of the John "Jack" Hollenback Endowed Scholarship Fund, established by Frank Kindler '77 in recognition of Professor Hollenback's extraordinary teaching and positive influence on Lycoming business students. The scholarship will provide much-needed aid for students from Pennsylvania majoring in business administration at Lycoming.
The creation of this endowed scholarship supports the Campaign for a Greater Lycoming by fueling a new generation of warriors, guaranteeing that future generations of college students will have increased access to a first-rate Lycoming education, regardless of their ability to pay.
A business administration and economics major while a student at Lycoming, Kindler was an exemplary student athlete who learned the skills of leadership, hard work and dedication through his experiences in the classroom and on the football field. Throughout his successful career as a business owner and long-time high school head football coach, he used the skills he developed and honed at Lycoming to impact his community and Lycoming College. Kindler has been a loyal supporter of Lycoming, including serving on Warrior Club Advisory Council and contributing to the Girardi Legacy & Field Turf Project, as well as the new football scoreboard and other initiatives.
A native of Williamsport, Jack Hollenback '47 joined the faculty at Lycoming College in 1953, becoming a pillar of the business department until his retirement in 1992. Hollenback's commitment to providing students with a premier education in business and the liberal arts greatly influenced his students, and his generosity toward the Lycoming College community continues to impact the campus and student body. This endowed scholarship honors his legacy.