January 7, 2019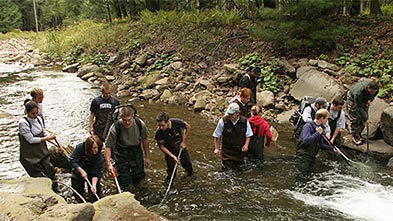 The Arthur Vining Davis Foundations has awarded Lycoming College a $258,000 grant to develop a college-community stormwater partnership model for small urbanized watersheds. The grant will further the capacity of Lycoming College's Clean Water Institute (CWI) to support urban stormwater management initiatives by community partners, expand the College's environmental science curriculum, and provide new research and training opportunities to prepare students for a high-demand area in natural resource management.
Managing stormwater is essential for providing clean drinking water, limiting pollutants to coastal ecosystems, and maintaining healthy river systems. The CWI is centrally positioned to provide support to local organizations tasked with meeting stormwater requirements while also developing an undergraduate curriculum in urban stormwater management focused on experiential learning.
The grant initiative aims to focus on small urban watersheds and build on college-community partnerships, with the CWI providing technical support to local organizations to help improve water quality. Concurrently, the CWI will develop stream monitoring and assessment projects in urban catchments; a partnership with Seewald Laboratories, a local water chemistry analytical lab; formal agreements to provide technical support to local municipalities, watershed groups, and other organizations in exchange for opportunities for student internships and training, including at the College's biology field station located along the Loyalsock Creek in Montoursville; and expanded environmental science curriculum outreach, education, and training activities to serve the local community, including K-12 programs at the Waterdale Environmental Education Center, a Lycoming College partner organization.
"We believe this project can serve as a model for other municipalities in small watersheds to extend their capacity for managing stormwater impacts," says Mel Zimmerman, Ph.D., founder and director of the CWI and professor emeritus of biology at Lycoming College. "This project is unique in its development of a specific curriculum for undergraduates in concert with a program to provide meaningful support for local conservation initiatives."
Students will be exposed to all aspects of stormwater management, which could include basic research, project implementation, community outreach, stakeholder meetings, and other interdisciplinary components of a management program. The student experience will combine academic instruction with real-world practice. The grant will allow the College to hire a postdoctoral fellow with specialized expertise in urban stormwater management to help develop the program in collaboration with current Lycoming faculty members.
"Undergraduate education and research are the basis of the intellectual life of the mind that is the focus of this project," says Phil Sprunger, Ph.D., provost of Lycoming College. "In the context of Lycoming's commitment to a liberal arts education for the 21st century, students will engage in academic learning and technical skill development and explore the connectivity between academic study and practical application."
The CWI has already provided nearly 200 Lycoming students with high-impact educational experiences beyond the classroom, which will continue through this project.
Sprunger adds, "The project will also develop unique pedagogical approaches that are transferable to programs at other colleges and universities, and the community partnership approach can serve as a model for other institutions and small urban municipalities."
The CWI plans to continue collaborating with their existing partnerships with the Susquehanna River Heartland Coalition Environmental Studies, the PA Department of Environmental Protection, and the Northcentral PA and Western PA Conservancies, as well as develop additional partnerships with the Williamsport Sanitary Authority and the Lycoming County Water and Sewer Authority.
Ultimately, this collaborative project aims to improve stormwater management techniques that lead to measurable improvements to urban streams in the region and thus help to improve the health of the Susquehanna River and the Chesapeake Bay. Additionally, the project will provide students the academic foundations and technical knowledge to work in stormwater management or research programs and to strengthen the College's relationships with the community.
Organized in 1952 under a living trust established by Mr. Arthur Vining Davis, the Arthur Vining Davis Foundations bear witness to Mr. Davis' successful corporate leadership insight and his visionary, entrepreneurial spirit in philanthropy. Since inception, the Foundations have awarded over 3,800 grants totaling more than $300 million to colleges and universities, hospitals, medical schools, and divinity schools.